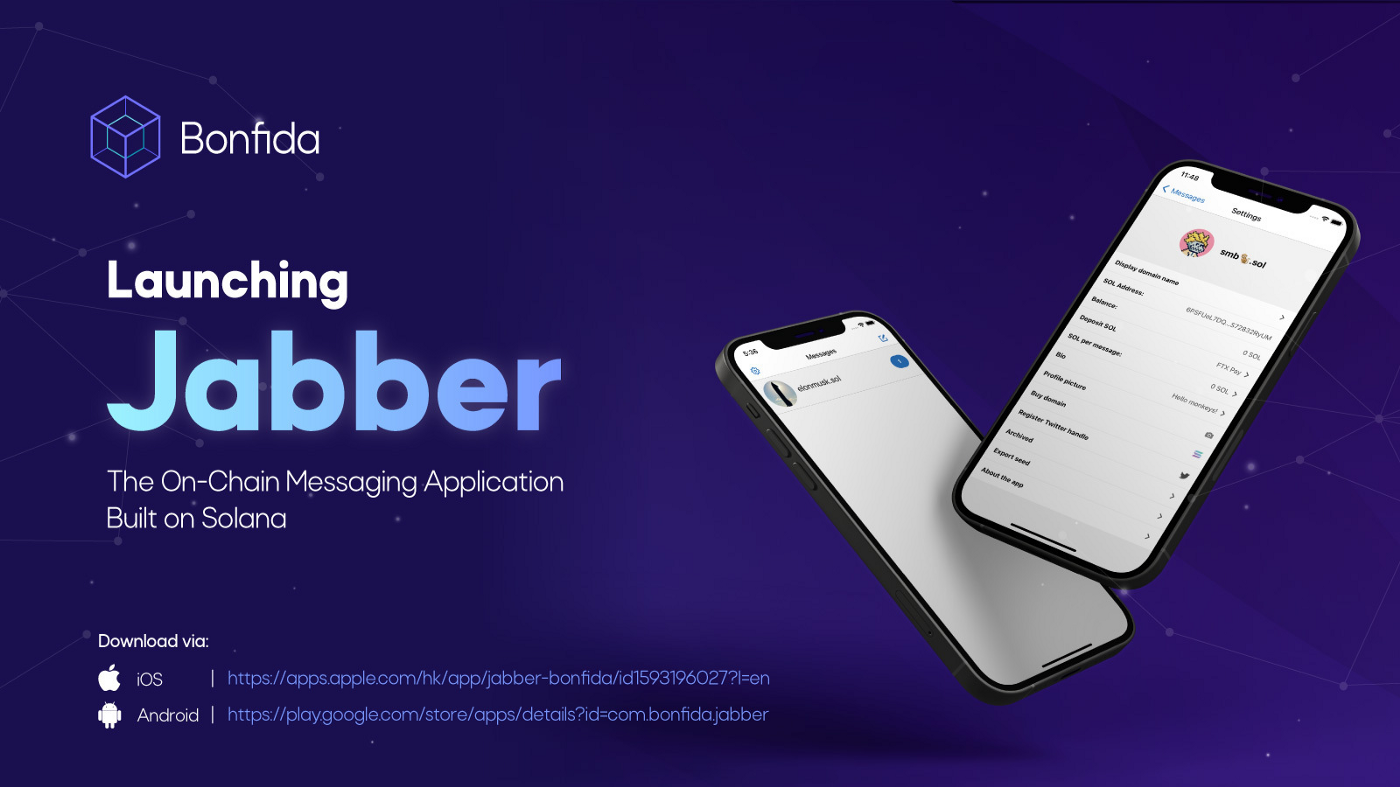 Bonfida
Bonfida: The DEX Ecosystem Pioneering on Solana
As Solana continues to break all-time highs and establish itself as a major layer one blockchain, various projects built on the network have also surged in visibility. One significant project is Bonfida, which started out as a front-end GUI built for the Serum DEX on Solana. In order to seamlessly bridge the gap between Serum and the end user, Bonfida developed a user-friendly trading interface with supplemental features such as a built-in wallet and on-chain data analytics.
Since the publication of its whitepaper in November 2020, Bonfida has rapidly released new offerings to its product suite. Today, the project is a fully-fledged ecosystem that boasts many original innovations on Solana including the Solana name service and the blockchain's first perpetual contract trading protocol. As Bonfida continues to work closely with Solana and Serum to increase adoption, it's poised to capture immense value moving forward.
Members of the core Bonfida development team have been collaborating since their university days. Bonfida's founder comes from an engineering background and first forayed into cryptocurrency as an API trader. He recalls, "If you wanted to [trade algorithmically] with the stock market, you needed to buy a subscription with Interactive Broker and you needed at least $100,000 in your account. With crypto…you just needed an email address and you can plug your bot into the API of the exchange."
From there, he delved into the technical aspects of blockchains and was highly impressed by Solana's technology. While Ethereum was by far the market leader for decentralized applications, he presciently spotted potential in Solana's superior transaction speeds and efficiency. With a matchless throughput of 50k TPS, the Solana network had gas costs of less than $0.01 and was home to Serum, the world's most powerful fully on-chain decentralized exchange. The founder also believed Solana's programming language Rust offered more tools for developers than Ethereum's Solidity. Ultimately, his decision to build on Solana came down to potential impact: "The value to be captured was so big on Solana compared to Ethereum just because the ecosystem was so new. I knew that if I were very persistent, the value to be captured was massive so that was something that motivated me a lot."
Bonfida Family of Products
The Bonfida team launched their flagship GUI for the Serum DEX in late 2020. Because Serum champions an approach of permissionless composability, any developer was free to build user interfaces on top of the Serum protocol. As a result, similar projects were constantly popping up at the time. But within weeks of its launch, Bonfida had garnered recognition among the Solana community for its ease-of-use. Eventually Sam Bankman-Fried and his team, who are closely linked with the Solana Foundation, endorsed Bonfida.
Bonfida's founder reflects positively on his project's early days: "Competition is net good for the ecosystem. That's what Bonfida tries to do… If you let people compete for something, in the end it's good for the users." Amongst a sea of competitors, Bonfida quickly rose to become the primary GUI for Serum due to the strength of its product suite. The Bonfida Serum GUI leverages seamless UX to provide traders advanced order types such as limit and market orders, as well as TradingView charts made with on-chain data. Such data is made available through Bonfida's Serum API, which is a unique backend infrastructure that serves as a repository of all Serum transactions. Bonfida's Serum Dashboard presents users with all elements of the Serum ecosystem, including the GUI, swaps, borrowing/lending, and staking, in one convenient place. Meanwhile, Bonfida's native token FIDA is completely integrated into the platform. With a maximum supply of 1 billion tokens, FIDA governs the fees earned on Bonfida. It accrues value from other Bonfida services and can be used for buy & burns.
While Bonfida mainly launched as a front-end interface for Serum, it has since transformed into a diverse and innovative ecosystem on the Solana network. In addition to its flagship GUI, Bonfida boasts several trail-blazing core services. Users can register .SOL domain names with Bonfida's Solana name service. It hosts public auctions on domains to mitigate squatting, which has plagued traditional internet domain names. Solana name service is integrated with nearly all Solana wallets and Bonfida is in talks with DNS provider Cloudflare for potential integration. While the protocol is similar to Ethereum Name Service, .SOL domain names do not expire whereas .ETH domains must be annually renewed. The project founder sees three primary uses for the name service. The first draws parallels to the NFT space, because domain names are used for collecting and flipping. The second application is for payments. A .SOL domain can be mapped to a specific public key so users only have to offer their domain names to send or receive payments, rather than having to memorize or input complex public keys. The third application is broad and exciting, but may take time to be fully realized. Since .SOL domain names can store any type of data, including an IPFS ID or Arweave hash, they can be used to build fully decentralized web applications. For this purpose, Bonfida has built out a CLI (common line interface) that allows web apps to deploy on Arweave or IPFS while updating Solana name recalls.
To expand trading services, Bonfida has innovated Solana's first on-chain perpetuals protocol. Audaces Perpetuals currently use a Virtual Automated Market Maker (vAMM) instead of an orderbook to avoid inefficient market making and costly cranking on Serum. In August 2021, Audaces accumulated $70 million in 30-day trading volume. When building the protocol, Bonfida took two novel approaches that separate Audaces from not only other Solana DEXs, but DeFi platforms in general. Firstly, the team innovated on the vAMM's rebalancing mechanism. By setting aside some funds for the vAMM to buy its own collateralized positions, Bonfida allows the vAMM to rebalance longs and shorts so that no significant skew occurs over time. Secondly, Audaces reduces protocol risk by optimizing liquidation speed. Usually DeFi platforms must iterate over all user accounts to check if their positions are below the liquidation threshold. This process is slow, inefficient, and difficult to scale. Audaces introduces Liquidation Trees to group positions under subtrees that can be cut out and liquidated in just one transaction. Tree nodes are indexed on liquidation price, so once the oracle updates price, the smart contract knows where to look to liquidate grouped positions. This greatly improves liquidation speed as the only bottleneck becomes oracle speed. Audaces works with Pyth Network, the fastest on-chain oracle, to achieve a liquidation speed equivalent to Solana's block time of 400ms. This is quicker than the speed of many CEXs.
Bonfida has developed a simple vesting contract that allows users to deposit SPL (Solana Program Library) tokens that are unlocked to a specified public key under certain block heights. It was the first token vesting contract to be audited on Solana and still serves as a model smart contract for other teams launching new projects on the network. The founder is proud that it's frequently referenced as a learning tool by new developers on Solana: "It's amazing to be the example that's actually being shown to [programmers] by Solana itself." Bonfida offers a simple way to automate trading strategies and perform copy trading on Serum using Bonfida bots. Users can automate their trading strategy by creating a bot and plugging it directly into TradingView. Doing so will make them a signal provider, and other users can invest FIDA into that bot to copy the same strategy. The FIDA invested is pooled and a certain percentage will be regularly paid out to the signal provider as fees for using their bot. The fee percentage and payment frequency is decided by the signal provider during initial bot creation. Bonfida also takes a cut of these fees and will allocate a portion to Buy & Burn and the rest to an insurance fund for the trading bots smart contract. A portion of all the fees generated from the Bonfida ecosystem are sent to the Buy & Burn pool. This is controlled by a smart contract that limits potential actions to two – buy FIDA and burn FIDA. It's a way to give users transparency as the pool is completely permissionless and decentralized. Furthermore, the mechanism rewards FIDA stakers because 10% of the FIDA burned every month is airdropped to on-chain stakers. So far over 1 million FIDA has been burned by the smart contract, with a growing monthly burn rate of over 100,000 FIDA.
Mentha's Outlook
We are highly confident in Bonfida's future development because the project shows tremendous promise as a crypto infrastructure builder and as a mainstay in DeFi. Recently the project has experienced massive success, rising to roughly $56 million in daily trading volume at 70,000 daily active users, and $6.88 billion in total trading volume since inception. Not only has Bonfida developed multiple first-time innovations on Solana, such as the Audaces perpetuals and Solana name service, its applications remain the most effective and user-friendly. One example is its token vesting smart contract, which was developed early on and is still presented by Solana as a model contract. Mentha believes that while Bonfida itself is not a layer one protocol, its applications are so integral to Solana users that it can be considered an essential piece of the Solana infrastructure.
Today, the Bonfida team has team members around the globe in Europe, South America, Australia, China, and Hong Kong. They work closely with Solana to coordinate future initiatives. The team's track record, coupled with Solana's increasing adoption, is highly positive for its long-term growth prospects. Regarding Bonfida's short-term vision, the founder states: "Right now we want to focus on the V2s of the different smart contracts and protocols that we've built." For example, he plans to make Bonfida bots compatible with perpetuals, and he foresees the upgraded version of Audaces to be orderbook-based. Since DeFi is a core element of Mentha's investment approach, we are dedicated to supporting Bonfida's continuous innovation in their DeFi offerings.
Disclosure: Mentha Partners may hold an economic interest or serve in an advisory role to the project. This article does not constitute financial, investment or legal advice but is for informational purposes only.